Bloggers Make a Difference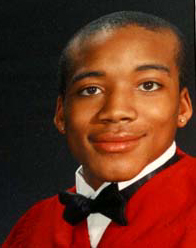 thanks to the ongoing efforts of bloggers
and other concerned citizens,
the memory of Rashawn Brazell lives on.
Gay men unite through blogs to keep alive the story of a city teen's brutal slaying
BY ANDREW LAVALLEE
NewYorkNewsday.com
May 24, 2005
Rashawn Brazell would have turned 20 in April. Instead of a celebration, his birthday was marked with candlelight vigils and town hall meetings. By then, his February murder had faded from headlines. But a growing number of New York-area bloggers, many of them African-American and gay, like Brazell, are keeping his memory, and the search for his killer, alive.

"I couldn't do anything else until I'd blogged about it," said Larry D. Lyons II, 24, one of the first to write about the crime in an online diary. Lyons compiled links to news reports and posthumous letters he had written to Brazell in early March. Dozens of readers posted their comments, and more comments came with each entry. Brazell's murder struck a chord with Lyons and many in the black gay community who believed his murder had been given short shrift by the New York mainstream media. Brazell, of Brooklyn, disappeared Feb. 14. Several days later, parts of his body were found in a Brooklyn subway tunnel and later a recycling plant. Early news reports said he was going to rendezvous with another man.

read the full story here.