Follow the Vanishing Check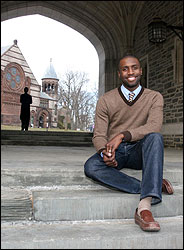 Photograph by Jane Therese for The New York Times
Larry Lyons, who is 23, vividly remembers the Saturday mornings when his mother would write checks to pay the family's bills, dispatching him to the landlord with one for the rent. When he was in sixth grade, she taught him to balance a checkbook.

What he has more trouble remembering is the last time he wrote a check himself.
"I don't think there are any bills for which I use a paper check," said Mr. Lyons, a graduate student in literature at Princeton. "It's much easier to be able to point and click and make a payment."

Mr. Lyons and other young adults may belong to the first check-free generation as they choose to handle transactions almost entirely by debit card, credit card and computer. The number of checks written in the United States peaked sometime in the mid-1990's; it has been falling precipitously for the last four years, according to the Federal Reserve. At the same time, the number of electronic payments has risen swiftly.

By JENNIFER A. KINGSON Published: March 26, 2005.
Read the complete article
here
.